The 2022 Subaru Love Promise Community Commitment Award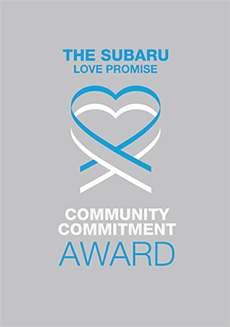 We've been nationally recognized for our dedication to our community and the Subaru Love Promise.
We're honored to receive the 2022 Subaru Love Promise Community Commitment Award. This award nationally recognizes Subaru retailers who are making the world a better place while demonstrating an outstanding commitment to supporting passions and causes in local communities. These efforts are focused in important areas such as the environment, community, health, education, and pets.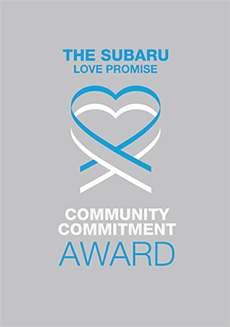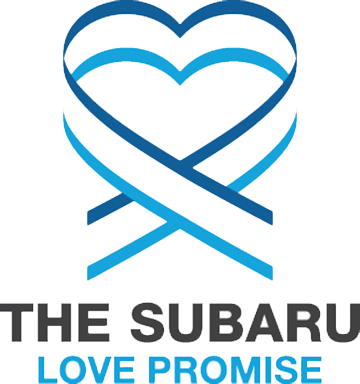 What is the Subaru Love Promise?
Subaru and our retailers believe in making the world a better place and the Subaru Love Promise is our vision of respecting all people. This is our commitment to show love and respect to our customers and to work to make a positive impact in the world.
How is Fitzgerald Subaru of Gaithersburg dedicated locally to the Love Promise?
Our Love Promise can be seen in various partnerships with local charities and non-profits. We're grateful for the opportunity, not only to be a part of our community, but to serve it as well.
Watkins Mill Elementary School
Montgomery County Coalition for the Homeless
Children's National - Montgomery County
Love Promise Stories from Fitzgerald Subaru of Gaithersburg
Subaru and Fitzgerald Subaru of Gaithersburg believe in making a positive impact on the communities in which we live and work. We uphold that belief through our Love Promise Community Commitment. Every month, we select inspiring stories from customers and partners from around our area who strive to support our collective commitment and feature them here
Fitzgerald Subaru of Gaithersburg donation to Watkins Mill Elementary School - Chelsea A
Watkins Mill Elementary School is so grateful for our Community School partnership with Fitzgerald Subaru of Gaithersburg! Thank you for the generous donations of the Subaru Loves Learning classroom kits! Our students, families, and staff appreciate you!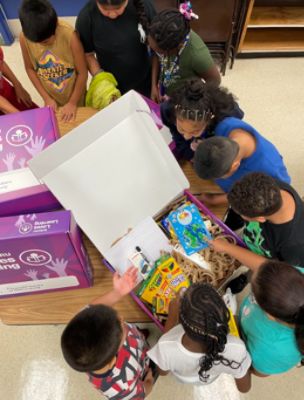 ---
Watkins Mill Elementary School thanks Fitzgerald Subaru of Gaithersburg! - Chelsea A
Watkins Mill Elementary School students, staff, and families are grateful for our partnership with the Fitzgerald Subaru in Gaithersburg! From the materials provided for a school-wide recycling month competition and sponsored pizza party for winning grade level, to the planting seeds distributed to all WMES students, to the donated tire planters for our courtyards, we want to say a huge THANK YOU! We appreciate your support for our school community!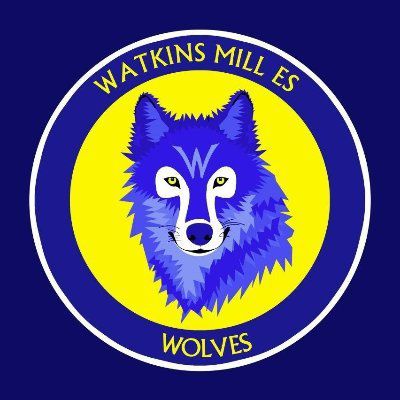 ---
Loves to Care for Childrens National - Marci H
Hi friends at Fitzgerald Subaru Gaithersburg - I would like to start by thanking you from the bottom of my heart and on behalf of my team here at the Children's National Hospital in Montgomery County, for the awesome donation of blankets for the children we treat. Getting to meet your team and sharing our site with you was fun. As I am sure you can imagine it is frightening and sometimes painful for the children and families who come here for their healthcare needs. The providers, nurses and staff are always looking for creative ways to ease the children's pain, comfort them and make them feel more at ease while they are with us. The generous donation of blankets you provided, helps us comfort them while they are here and continues to warm and comfort them at home. The smiles we see on the children's faces when they receive one of your blankets is priceless! Our nurses and providers who take care of the children love having the opportunity to offer something comforting in addition to their words while ensuring the children get all they need to heal and get well. See the wonderful pictures of our Hematology/Oncology team presenting blankets to several of our patients receiving their chemotherapy just the other day! Please be assured that your blankets will be put to good use to provide comfort to those children right here in our community. Thank you for your generosity and continued support of Children's National Hospital. With gratitude and sincerity - Marci Harper Scott - Practice Manager and the entire team at Children's National Hospital of Montgomery County !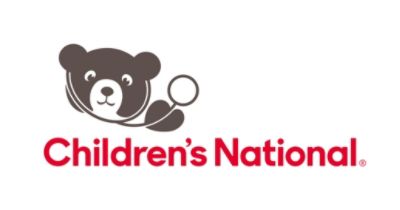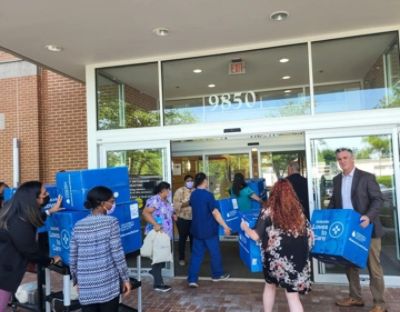 ---
Fitzgerald Subaru Loves to Support Learning! - Brooke S
Here are some pictures of one of our classrooms using a resource provided by the Subaru donation. We are so excited and grateful to have this sound sorting kit! Students are able to practice sorting initial sounds and identifying with the corresponding letter during small group instruction. This will help them segment and blend words while reading! Thank you so much!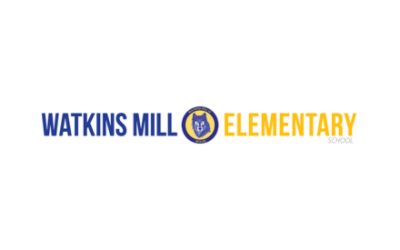 ---
Montgomery County Coalition for the Homeless - Tali M
This November, Fitzgerald Subaru of Gaithersburg dropped off 200 pairs of socks and 80 blankets at Montgomery County Coalition for the Homeless' Men's Emergency Shelter. The MCCH Team is so grateful for our community partner! Providing these much needed items is so important to the men in our shelter, and we love being a part of the Love Promise Campaign. The Fitzgerald Subaru of Gaithersburg team is a part of ending homelessness in Montgomery County!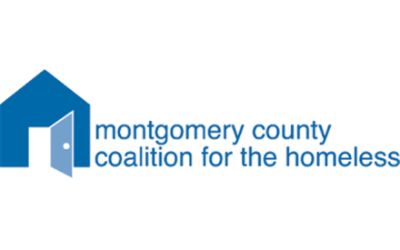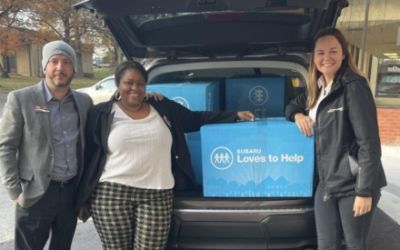 ---
Fitzgerald Gaithersburg Loves Pets - Laura S
During Subaru's Loves Pets month, Humane Rescue Alliance was once again invited by Dottie and the Fitzgerald team to be chosen participants for this campaign. Not only do the funds help us take care of animals in our care by supporting animal care, medical and behavior needs, as well as the rescue work we perform, HRA was invited to host an adoption event at the Gaithersburg dealership. Thanks to the team for pulling out all the stops to make the event autumn themed and enjoyable by animals and humans. We successfully adopted out 14 animals. The staff were so friendly in welcoming HRA, our volunteers and all of the people who came out to the meet our animals.
---
Family Addition - Tammy M
My name is Tammy and I work for Fitzgerald Subaru. I found out about a pet adoption event thru my job and was assigned to work that day. I was so excited to greet all of the animals that came. I began talking with another family member and sending pictures to her of the animals I had taken with my phone. I began looking at the cats because I thought that a cat would make a great addition to our home...I was unaware of the kitten that was on the truck. After I was told about the kitten I asked to get on the truck to look at her and I FELL IN LOVE IMMEDIATELY!!!!! She was perfect!!! I brought her home to the family and everyone fell in love with her, we renamed her Queen because she rules the house now. It is so great to come home to her little bells jingling as she's running to you to love on you. She loves to cuddle too! I am so happy with her and excited about what she brings to our family. She's all love!!
---
Subaru Loves Pets Adoption Event at Gaithersburg - Laura S
Through the Subaru Loves Pets campaign and our incredible long-standing partnership with Fitzgerald Subaru, Humane Rescue Alliance (HRA) was able to showcase our many adoptable animals during a Gaithersburg adoption event (safely and securely). We heard from one family who adopted a cat from HRA over three years ago who then joined their two 20-year old beloved cats becoming one big happy family. Sadly, their dear senior cats passed away earlier this year leaving the family heartbroken. The family attended the Gaithersburg adoption event and added two new cats - now named Eleanor and Martha who have brought much joy and happiness into their home. They have bonded well with their adopted HRA alum who are now all friends. "It's been such a smooth transition and their presence has really helped my husband and I heal from the loss of our elderly cats, who we miss very much. And when I need to buy a new car, I will absolutely purchase the car from that Subaru dealership!". Thanks to the Fitzgerald team for helping make this happen!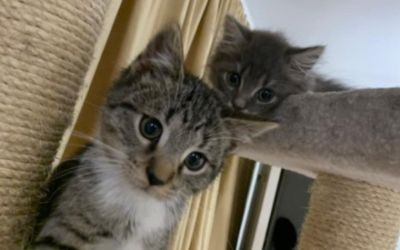 ---
Fitzgerald Shares the Love with HRA - Laura S
During the 2019 Subaru Share the Love Drive, Dottie Fitzgerald and the team at Fitzgerald Auto Mall raised an incredible $75,000 for the animals of HRA. While we couldn't be together in person, we were thrilled to connect for a virtual conversation and check presentation between Dottie Fitzgerald and Lisa LaFontaine, HRA's President and CEO. Many thanks to the team! We are also looking forward to hosting an adoption event Saturday Oct. 10 from 10am - 1pm at the Gaithersburg location. CDC guidelines apply.
---
Fitzgerald Makes Special Delivery - Dani R
At the Humane Rescue Alliance, we're dedicated to protecting animals and to placing and keeping them with caring families, and we deliver on that promise through our broad range of vital services. However, non of our critical work would be possible without the generous support of our community and partners like Fitzgerald. Recently, the Fitzgerald team delivered two Subaru vehicles packed with pet food, supplies, and toys to our adoption center. Adoptable pup Rolo was the first to test out the toys. We were thrilled to report to the Fitzgerald team that he found a loving, new home later that day. Thank you Dottie and the entire Fitzgerald team! We couldn't do what we do without you!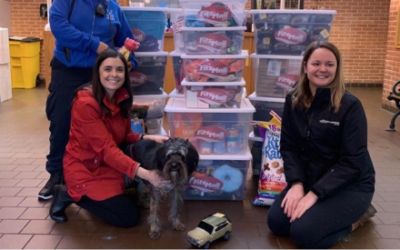 ---