The 2021 Subaru Love Promise Community Commitment Award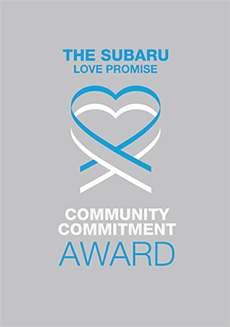 We've been nationally recognized for our dedication to our community and the Subaru Love Promise.
We're honored to receive the 2021 Subaru Love Promise Community Commitment Award. This award nationally recognizes Subaru retailers who are making the world a better place while demonstrating an outstanding commitment to supporting passions and causes in local communities. These efforts are focused in important areas such as the environment, community, health, education, and pets.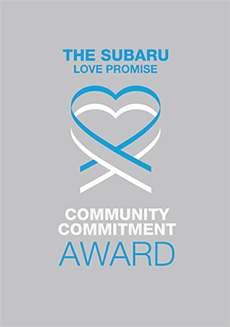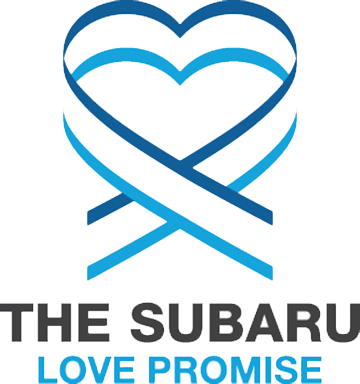 What is the Subaru Love Promise?
Subaru and our retailers believe in making the world a better place and the Subaru Love Promise is our vision of respecting all people. This is our commitment to show love and respect to our customers and to work to make a positive impact in the world.
How is Fitzgerald Subaru of Gaithersburg dedicated locally to the Love Promise?
Our Love Promise can be seen in various partnerships with local charities and non-profits. We're grateful for the opportunity, not only to be a part of our community, but to serve it as well.
Love Promise Stories from Fitzgerald Subaru of Gaithersburg
Subaru and Fitzgerald Subaru of Gaithersburg believe in making a positive impact on the communities in which we live and work. We uphold that belief through our Love Promise Community Commitment. Every month, we select inspiring stories from customers and partners from around our area who strive to support our collective commitment and feature them here
Subaru Loves Pets Adoption Event at Gaithersburg - Laura S
Through the Subaru Loves Pets campaign and our incredible long-standing partnership with Fitzgerald Subaru, Humane Rescue Alliance (HRA) was able to showcase our many adoptable animals during a Gaithersburg adoption event (safely and securely). We heard from one family who adopted a cat from HRA over three years ago who then joined their two 20-year old beloved cats becoming one big happy family. Sadly, their dear senior cats passed away earlier this year leaving the family heartbroken. The family attended the Gaithersburg adoption event and added two new cats - now named Eleanor and Martha who have brought much joy and happiness into their home. They have bonded well with their adopted HRA alum who are now all friends. "It's been such a smooth transition and their presence has really helped my husband and I heal from the loss of our elderly cats, who we miss very much. And when I need to buy a new car, I will absolutely purchase the car from that Subaru dealership!". Thanks to the Fitzgerald team for helping make this happen!
---
Fitzgerald Shares the Love with HRA - Laura S
During the 2019 Subaru Share the Love Drive, Dottie Fitzgerald and the team at Fitzgerald Auto Mall raised an incredible $75,000 for the animals of HRA. While we couldn't be together in person, we were thrilled to connect for a virtual conversation and check presentation between Dottie Fitzgerald and Lisa LaFontaine, HRA's President and CEO. Many thanks to the team! We are also looking forward to hosting an adoption event Saturday Oct. 10 from 10am - 1pm at the Gaithersburg location. CDC guidelines apply.
---
Fitzgerald Makes Special Delivery - Dani R
At the Humane Rescue Alliance, we're dedicated to protecting animals and to placing and keeping them with caring families, and we deliver on that promise through our broad range of vital services. However, non of our critical work would be possible without the generous support of our community and partners like Fitzgerald. Recently, the Fitzgerald team delivered two Subaru vehicles packed with pet food, supplies, and toys to our adoption center. Adoptable pup Rolo was the first to test out the toys. We were thrilled to report to the Fitzgerald team that he found a loving, new home later that day. Thank you Dottie and the entire Fitzgerald team! We couldn't do what we do without you!
---
Fitzgerald Subaru Gives Back at Light The Night! - Jenn B
The Leukemia & Lymphoma Society (LLS) would like to recognize and thank Fitzgerald Subaru of Gaithersburg and Rockville for supporting our local Light The Night Walk in Rockville, Maryland for a third year in a row! Over these past few years, the Fitzgerald Subaru team has helped spread our mission of curing blood cancers to their staff, customers, local business partners, and local hospitals through Light The Night and Subaru Cares blanket deliveries, while raising an incredible $12,500+ for our Light The Night campaign! Funds raised for Light The Night go towards the three pillars of our mission: research, patient access, and policy and advocacy. Since 2017,51 new blood cancer treatments have been approved by the FDA, and 45 of these were directly funded by LLS. We aren't able to make the impact we do without amazing partners like Fitzgerald Subaru of Gaithersburg and Rockville. This year specifically, Fitzgerald Subaru increased their presence in the local community at our Rockville Light The Night Walk by agreeing to be our Red Lantern Holder. Two employees from the Rockville and Gaithersburg locations came up on stage, had Subaru Fitzgerald's story read to all of our participants, and led the lighting of our red lanterns, which are for anyone who supports LLS's mission. It was absolutely beautiful, and we are so thankful for Fitzgerald Subaru's commitment to this community and to Light The Night.
---
Still Lighting up the Night - D J
Fitzgerald Gaithersburg Subaru started the New Year off with a continuation of their commitment to supporting the Leukemia & Lymphoma Society and the Light the Night fundraiser event from October 2018. On January 28th, 2019, the fundraising event continued with the team of associates and managers, at Fitzgerald Gaithersburg Subaru, dressing up with Light the Night t-shirts and gave out lanterns and bags to customers and their families. That evening, another walk was organized to raise funds that will continue to help find cures for cancer. The commitment of this group to Share the Love in and around our community is what makes working at Fitzgerald a special place, that's the FitzWay!
---
Share the Love by Adopting a Pet - Ed B
It's been proven that pets add so much to people's lives, their happiness, and their health. That's why Fitzgerald Auto Mall hosts quarterly Pet Adoption events at the dealership so we can bring a pet that needs a home and a home that needs a pet, together. It is our hope that finding loving homes for dogs and cats, helps our community in many ways. It is our pleasure to see the happy faces on our customers and neighbors when they pick out their pet from the many needy ones brought into our dealership by The Humane Rescue Alliance. We support their role in advocating animal-friendly communities and to date, have aided in the adoptions of over 200 animals. The adoption events are held at our dealerships and we transform a part of the showroom floor into a friendly adoption facility and play area for the pets. Many of our employees participate in finding the right match for the pets and have even taken home a few themselves. We also have donation baskets in the showroom that are regularly filled to the brim with pet food, toys, leashes, etc., brought in by our employees and sometimes dropped off by our loyal customers. We then take them to local animal shelters. All for the love of our woofers and meowers ¿
---
Share the Love of Learning - Donna T
Fitzgerald Auto Mall continues to spread Subaru's message to Share the Love at one of the local elementary schools, Gaithersburg Elementary in Gaithersburg, Maryland. In conjunction with an open house for parents, on October 8, hundreds of hardbound, colorful and meaningful books were brought in to the school and given out to students to take home and enjoy reading with their families. Our General Sales Manager, Felipe Teixeira and one of our long-term sales associates, Drew Huon, took their time to visit the school and meet with the school's principal to make this donation. At Fitzgerald, we encourage continued learning for our associates, at all levels in the dealership, but we start with participating in the love of learning at our local schools. These students are our future employees and customers. Sharing the Love of learning is just one way we hope to give back to our community.
---
Thank You Fitzgerald for Sharing Hope & Warmth! - Jenny H
On Thursday, July 19th both of the Fitzgerald Subaru teams came together to deliver blankets to Children's National Medical Center. Both groups were incredibly excited to be able to provide more blankets and arts & craft kits to the hospital. One of the Subaru team members who had joined the delivery the year before was so excited to come back again that she brought extra toys to donate along with the blankets! In addition to all of the excitement, Katie Hall, another Subaru team member, had a service dog in training with her - the puppy got to know the LLS staff pretty quickly and was a great start to a Subaru Loves to Care delivery day! All in all it was a great day and the patients at Children's National were so grateful for Subaru's generous donation.
---
Fitzgerald Subaru Hurricane Harvey Relief - Patrick B
After seeing the need in Texas, following Hurricane Harvey, Fitzgerald Auto Mall realized that many families would be affected by this historical hurricane and they wanted to find a way to help. Throughout the 2017 Labor Day holiday, Fitzgerald Gaithersburg Subaru aggressively promoted a campaign to donate $100 for each vehicle sold during the 4-day period, to the Hurricane Harvey Texas Relief Fund. The Washington D.C. metro area, which includes Montgomery County, where Fitzgerald has huge name recognition, is a very transient area, so many of their customers – and their families – were affected by the devastation that Hurricane Harvey brought to the southern US. The response from the community was overwhelmingly positive, and Fitzgerald associates received a lot of warm feedback from their customers. Sharing the Love and supporting the community and beyond is just part of the Fitz Way!
---
Fitzgerald Subaru Lights the Night - Donna T - Patrick B
To kick off the Holiday season, the Leukemia & Lymphoma Society partnered with Fitzgerald Gaithersburg Subaru, and Fitzgerald Subaru Rockville, to host a "Light the Night" fundraiser on October 14. In preparation of the event, Fitzgerald Auto Mall put together a walk team comprised of their associates to participate in the event. The team from Fitzgerald, along with friends, family, and members of the community, walked in celebration of survivors and in celebration of the strides being made to find cures for cancer. Survivors celebrated by carrying white lanterns and taking part in an inspiring survivor ceremony with light illuminating the darkness of the night's sky. Their team of walkers raised funds that will go a long way to help support the research of blood cancer treatments. Sharing the Love in the community is just part of The FitzWay!
---